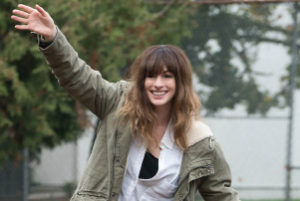 You've probably never seen a movie quite like this.
I adored Colossal. It's my favorite film of 2017 so far. I want to campaign for it at every theater across the country. I want to shake people standing in line to buy tickets for [INSERT LATEST BIG-BUDGET SEQUEL HERE] and shout, "No! Don't give those guys your hard-earned money! Go see this unbelievable, uncategorizable indie instead—you can thank me later!"
Coming to us from new studio NEON and Spanish writer/director Nacho Vigalondo is the story of Gloria (Anne Hathaway), an aimless alcoholic mess whose boyfriend Tim (Dan Stevens) finally gets fed up with her hard-partying ways and lack of ambition and kicks her out of his Manhattan apartment. So Gloria heads home and reconnects with childhood friend Oscar (Jason Sudeikis), who gives her a job at his bar.
As Gloria tries to get her life together and hold down her new waitressing gig, an otherworldly terror begins to wreak havoc halfway around the world in Seoul. A gigantic monster is trampling citizens and knocking over skyscrapers, and with each new attack, Gloria starts realizing she may somehow be connected to the beast's actions.