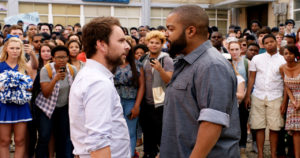 Hey comedy directors: when your end-credits blooper reel is funnier than the rest of your movie, you've failed.
Fist Fight should have at least been decent; its trailers gave me hope. It stars the high-strung, squirrelly Charlie Day (Horrible Bosses) as Andy Campbell, a minds-his-own-business high school English teacher who witnesses a destructive in-class meltdown by his colleague Mr. Strickland (Ice Cube). After Campbell rats on Strickland in order to save his own job, Strickland challenges him to a fight after school on the last day before summer break.
Unfortunately, I knew I was in for a painful hour and a half within the first ten minutes of this movie. The film opens with seniors playing ridiculously extreme "pranks" that are not even remotely funny, like letting a meth-fueled horse run around the school or replacing a prized baseball bat with a laptop playing pornography. Almost all jokes fell flat—there was complete silence in the screening room for nearly the entire film. Tracy Morgan's offbeat brand of humor was squandered as Campbell's friend Coach Coward. He served hardly any purpose except to stand around looking clueless while his students did things like shaping a crude scene onto the grassy playing field with a lawnmower. Even worse was Jillian Bell (Office Christmas Party) as Holly, a guidance counselor who was trying to help Campbell prepare for his fight but kept getting sidetracked by her attraction to teenaged students or conversations about her drug problem. Yet another misfire came from wasting Kumail Nanjiani (Silicon Valley) in a bit role as a school security officer. Morgan, Bell and Nanjiani are naturally funny people! It actually takes effort to make them UNfunny. That pretty much sums up the overarching problem with Fist Fight.