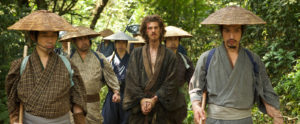 Have Faith in Silence
For living legend Martin Scorsese, who spent nearly 30 years trying to get this film made and even contemplated joining the priesthood, it would be an understatement to call Silence a passion project. A film about religious missionaries in 1630s Japan doesn't exactly spell huge box office hit and likely required all of Scorsese's industry clout to even be created. Although this movie may not be for everyone, audiences will witness an utterly unique and thought-provoking look at faith, and how much one is willing to sacrifice for it.
This historic drama opens with the voice of Fr. Ferreira (Liam Neeson, A Monster Calls, 2016) narrating his own letter describing the brutal conditions for Japanese Christians. It is 1635, and Christianity has been outlawed across the country. An already difficult situation has only worsened as Christians and priests are now being tortured and executed if they do not apostatize ("deny their faith"). The story then cuts to seven years later at a Jesuit College in Macau, a Portuguese colony in Asia, where two young priests, Fr. Rodrigues (Andrew Garfield, Hacksaw Ridge, 2016) and Fr. Garupe (Adam Driver, Paterson, 2016) meet with an older colleague, Fr. Valignano (Ciarán Hinds, Bleed For This, 2016). The group gathers to discuss the letter from Fr. Ferreira, who was a mentor to the young priests and a leading figure amongst the Catholic community in Japan. After finishing the letter, Valignano says he heard more news from Dutch traders that said Fr. Ferreira has given up the faith, leaving no more priests in Japan. Upon hearing the update, Fr. Rodrigues and Garupe are in utter disbelief, and despite death threats for priests, they decide it is their mission to uncover the truth.
Silence is a very thought-provoking film that digs deep into the issues of faith and conviction like no other film of its kind. From a visual standpoint, Scorsese brilliantly balances the beauty of Japan with the struggles that the Christians must endure. Although the few torture scenes are difficult to watch, they are not gratuitously violent or excessive, but rather convey to the audience the conviction and strength of the characters that bear it. Read more…