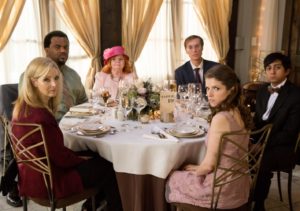 Table This Film…For Good
Have you ever attended a wedding and ended up wanting to crawl into a hole because you were seated at a table with complete strangers? Despite an uncomfortable start, these situations often result in hilarious stories. Table 19, the comedy-drama written and directed by Jeffrey Blitz, banks on this situation being funny enough to sustain a movie. Although Table 19 is plated with potential, can it deliver the goods?
The film opens with Eloise (Anna Kendrick, Mike and Dave Need Wedding Dates, 2016) receiving a wedding invitation, which sparks a variety of emotions for her. One minute Eloise is vindictive and the next she's sobbing. After much internal debate, Eloise draws an "x" on the RSVP card for yes, then crosses it out, then starts burning it and finally sends the half burnt piece of cardstock in the mail.
Through an entertaining montage, we're introduced to a number of other wedding guests including: Jerry and Bina (Craig Robinson, Sausage Party, 2016; Lisa Kudrow, The Girl on the Train, 2016) a married couple that seem to have lost their passion, Tony (Rezno Eckberg, Grand Budapest Hotel, 2014) a socially awkward teenager who is unlucky in the dating world, Walter (Stephen Merchant, Logan, 2017) a distant cousin who was recently released from prison and Jo Flanagan (June Squibb, Other People, 2016) the bride's childhood babysitter. Although they all react differently to the invite, they are all surprised to be invited and respond 'yes.' You're likely to correctly predict what's to come… Read more…