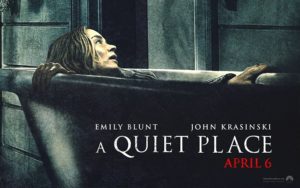 Shh…Don't Say a Word
Sci-fi giant spider-like creatures can't see you—so no need to hide—except, if they hear you—they'll kill you instantly. That's the premise of this tightly edited, spine-tingling sci-fi horror film. Be prepared for 95 minutes of suspense building, nerve-wracking drama as a family attempts to survive in a dystopian world where making a sound means certain death.
John Krasinski stars as dad Lee Abbott, he's also co-writer and director with Emily Blunt his real-life wife, playing his wife, Evelyn. Their two pre-teen children Marcus (Noah Jupe) and (Regan) Millicent Simmonds live in the year 2020; yet, in an upstate New York rural dystopian setting. All know, if you speak, you die.
Upon our first meeting of the Abbott family, we see two pre-teens and a younger brother Beau (Cade Woodward) around four years of age. They are tiptoeing while barefoot in a ramshackle pharmacy while mom Evelyn looks for medicine for Marcus. Beau finds a battery-powered toy spaceship and wants to keep it. A concerned dad, signs the word, "No," then signs, "It will be too loud." As he's signing, words appear on the screen as captions. And wouldn't you know it, before we can comprehend the gravity of the situation; big sis, gives Beau the toy while dad and mom aren't looking? Very quickly, the film grabs hold of you and lets you know it's playing for keeps as Beau meets a tragic end, all due to the eerie noise of an innocent toy. Read more…