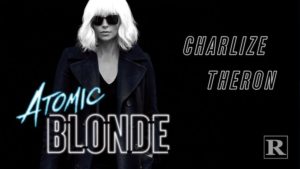 Click Here to listen to Sarah Knight Adamson's Hollywood 360 Radio Podcast:

Charlize Theron stars as a British M-6 agent in the 80s who is dispatched to Berlin to receive her new assignment. She's informed that a fellow agent in Berlin was killed and it is believed he had a file with the secret identities of the British spy network around the world. Her task is to recover the List and assassinate Satchel, a double agent who has sold intelligence to the Soviets for years and who also betrayed Gascoigne.
Bottom Line: Atomic Blonde is an entertaining summer film that spotlights Charlize Theron's remarkable acting as an action star. The highlight of the film is the choreography and filing techniques.
Credits: Written by Kurt Johnstad; Directed by David Leitch
Cast: Charlize Theron (Lorraine Broughton), James McAvoy (David Percival), John Goodman (Emmett Kurzfeld), Til Schweiger (the Watchmaker), Eddie Marsan (The Spyglass), Sofia Boutella (Delphine Lasalle), Toby Jones Barnard (Eric Gray), Bill Skarsgard (Merkel), and Sam Hargrave (James Gascoigne)
Studio: Focus Features
Running Time: 115 minutes