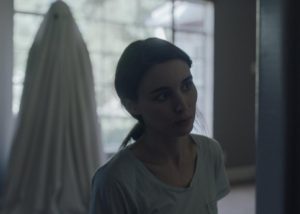 A deeply affecting meditation on life, death, grief, time, existence — and letting go.
So as you can probably discern from the statement above, A Ghost Story goes deep. Even though it tells a simple tale, has only two main characters and features several scenes that are mostly silent, it is more moving, more memorable, and just so much BETTER in every way possible than 95% of the films I see each year. By the end I felt like both my brain and my emotions had been put through the wringer. But I personally believe that's what the best films should do—make you think deeply, feel deeply, and leave the theater a changed person in some way. A Ghost Story achieves these things because of the brilliant vision and execution of its writer and director, David Lowery (Ain't Them Bodies Saints, Pete's Dragon), who does a lot with a little.
Casey Affleck and Rooney Mara—who worked together in Ain't Them Bodies Saints as well—play C and M, a couple who live simply in a ranch-style house. We get just a taste of their relationship before C unexpectedly dies. He dies . . . but he's not gone. He rises up from the table in the morgue, still covered by a white sheet, and (in an especially gorgeous shot, accompanied by a wonderful, violin-heavy score by Daniel Hart) makes his way back home. He watches M go through the stages of grief, but he can't do anything except stand there in his sheet and observe. Mostly.