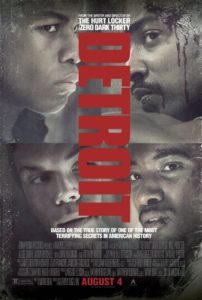 Detroit: When 1967 Meets 2017
When most people talk about the civil rights movement, they usually refer to the work of activists to counter racism in the South. But African-Americans didn't face injustice solely in the South; many large cities in the North were rife with discriminatory social policies that resulted in poverty and marginalization. Unfortunately, racial discrimination and urban decay are still hot button issues today and have recently sparked violence across the country. Inspired by the recent unrest in Ferguson, MO (among other places), the film Detroit examines the Detroit riots and the subsequent Algiers Motel Incident that occurred 50 years ago, which sadly shows times may not have changed much. Directed by Oscar-winner, Katherine Bigelow, this film is an eye opening and often cringe-worthy look at a dark moment in our nation's history.
The film takes place in the summer of 1967 when Motown may have peaked musically, but racial tensions were reaching a boiling point. The city of Detroit had just experienced several days of looting and rioting and even threats of sniper attacks. At one point, gunshots were allegedly fired near a National Guard outpost, which resulted in the Detroit police and other law enforcement agencies descending on the nearby Algiers Hotel. Not finding a clear suspect, the cops took matters into their own hands, and began terrorizing a group of African-Americans who just happened to be at the scene of the alleged crime. Refusing to believe their claims of innocence, the police were determined to find the culprit who allegedly fired shots at law enforcement and utilize brutal tactics. Making matters worse, the National Guardsmen outside (who are there to help), find out how terribly local police are handling the situation and turn their backs to avoid being linked with the controversy.