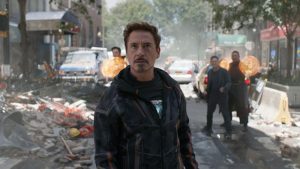 Avengers: Infinity Wars Sets New Bar for Superhero Spectacles
To call the film, Avengers: Infinity War a blockbuster movie is frankly an understatement at this point. The movie reportedly cost $300 million to make, which ranks it as the second-most expensive film, ever. The cast is an embarrassment of riches as its loaded with Hollywood stars. The film itself is the 19th century in the Marvel Universe franchise and is the culmination of all the preceding films, which include big movie franchises (Iron Man, Captain America, Thor, Spiderman, The Hulk, Guardians of the Galaxy, and the recent smash, Black Panther). Clearly, with that budget, cast, and back story to build off, the expectations for this movie are sky high. Fortunately, for the fans (and the studio), the Russo brothers, who directed this film, did not disappoint with this undertaking. Although the film has its weak spots, it's a hugely entertaining movie and will undoubtedly be a massive hit film for the largest franchise in Hollywood.
As described, Infinity War is the culmination of many previous Marvel films. While it's too difficult to go into detail about all that has transpired in the previous 18 movies to get to this point, the audience just needs to know that the unifying thread is the rise of a powerful and evil being named Thanos (Josh Brolin, Only the Brave, 2017). Thanos, who is a giant, bluish-purple being from the planet Titan (Iron Man cleverly calls him "Grimace"), is seeking six mystical Infinity Stones that are scattered across the universe. The Infinity Stones grant unique abilities over mind, soul, space, power, time and reality. In the previous films, these stones have been protected or held by different heroes of the Marvel Universe and Thanos has been hunting the stones down in the background.
The action of this film takes place literally after the final scenes of Thor: Ragnorak, which came out last summer. Thor (Chris Hemsworth, 12 Strong, 2017) and his brother Loki (Tom Hiddleston, Early Man, 2017), who are flying their people through space to find a new home, come under attack by Thanos, who now has the Power Stone. Thanos wants the Space Stone that Loki is hiding. The Guardians of the Galaxy led by Peter Quill (Chris Pratt, Passengers, 2016) hear Thor's distress call and arrive on the scene to help, although it's too late as Thanos has taken the Space Stone already. After some hilarious banter, Thor and the Guardians of the Galaxy eventually align to fight Thanos as he seeks two more stones in outer space. Meanwhile, Thanos sends his minions to Earth for the remaining two stones.