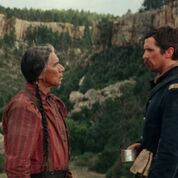 Western Film Goes South
During the settling of this country, American Indians were often described as "savages" based on their fearsome reputation. While this connotation certainly struck fear in many, in reality, atrocities were committed by both sides in the battle for control of the United States. Truth be told, the tactics used by the U.S. were arguably worse and more effective. In the end, U.S. forces were too strong, and the Indian way of life was changed forever.
Although there have been a multitude of movies covering the settling of the west, American films did not have a respectable historical track record with its depiction of Native Americans. It was not until the 1990s with films like Dances with Wolves (1990) and Last of the Mohicans (1992) that mainstream movies really depicted Indians as anything more than bloodthirsty villains. The new western-drama, Hostiles, attempts to come to terms with the violent history between U.S. forces and the Indians. Unfortunately, even with noteworthy cinematography and an excellent A-list cast, the story fails to deliver a memorable experience and plods along at too many points.