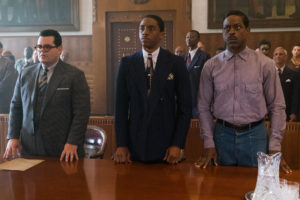 Marshall: Educational & Entertaining
Fast-rising actor, Chadwick Boseman (Captain America: Civil War, 2017), sure has his historical portrayals down. After playing baseball great, Jackie Robinson in 42 (2013) and musician James Brown in Get on Up (2014), he takes on the role of the first NAACP lawyer and African-American Supreme Court Justice, Thurgood Marshall. Not surprisingly, he is naturally convincing in this role as well.
In the historical drama, Marshall, directed by Reginal Hudlin and written by father-son team Michael and Jacob Koskoff, the plot centers on the true story of the 1941 courtroom drama that is not widely known, but proved to be incredibly influential in the legal world during such a segregated time in society. Marshall, the thirty-three-year-old lawyer, fights to defend Joseph Spell (Sterling K. Brown, This is Us, 2017), an African-American chauffer who is accused of raping his employer's wife, Eleanor Strubing (Kate Hudson, Deepwater Horizon, 2016). Given Strubing's high social standing in a conservative Connecticut community, the case quickly grows into a tabloid sensation and eventually increases tensions towards the end of the Jim Crow era.
Marshall's relatively unfamiliar story puts director Hudlin at an advantage as he can keep most viewers in suspense among the twists and turns of the trial itself, without having to do anything extraordinary. Hudlin's directing style is less stylish and more straightforward, which could bore some audiences, but entertain those thirsty for a heavy historical drama. While Marshall is well-told, I kept waiting for the film to build up and eventually match its powerful historical significance, but it falls just short.