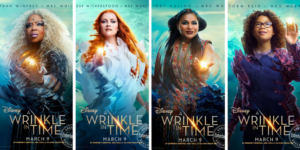 Family Centered, Features a Rising Star-Storm Reid
Madeleine L'Engel's novel A Wrinkle in Time, 1962 was first introduced to me in the late 80s when I began teaching fourth and fifth-grade gifted literature. We considered using it as a unit of study and then realized our Jr. Highs were teaching it. Rich in narrative, creative themes, vivid descriptions and family-centered; this Newberry Medal Award-winning book is a favorite classic in children's literature. It's well known that the novel may be 'unfilmable' due to the fantasy elements and cinematography. I'm happy to say, yes, indeed it can be re-created for the big screen, and the results are eye-popping while magnificent.
Ava DuVernay, director of Selma (2014), has created a fantasy world like no other. Vivid colors, glorious special effects, while staying centered on family values. There's so much for all here to take note of and champion; especially a new determined, young lady, Storm Reid, (Meg Murray) to say that a "star is born," is not an understatement. Her performance under DuVernay's careful eye is spot on.
To be clear, this is first and foremost a young adult film; Meg Murray is a middle school student. She's an awkward, underachieving, bullied and grieving teen whose father, Alex Murray (a bearded Chris Pine) disappeared four years prior leaving she, her mother, Kate (Gugu Mbatha-Raw) and gifted brother Charles Wallace, (Deric McCabe) to fend for themselves. Meg's troubled classmate Calvin (Levi Miller), also a loner joins the siblings in their pursuit to find their father.
As a young adult film, it delivers and speaks to kids. On the whole, it is disjointed and purposely slow at times. If one hasn't read the book, you may be in the dark as to exactly what is going on. Which leads back to the comment of unfilmable — I wholeheartedly recommend the film, just know it has a few problems that I'm willing to overlook for kids and adults in order to have the opportunity to experience their beloved novel on the big screen. Read more…