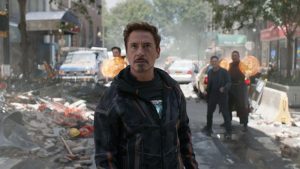 Avengers: Infinity Wars Sets New Bar for Superhero Spectacles
To call the film, Avengers: Infinity War a blockbuster movie is frankly an understatement at this point. The movie reportedly cost $300 million to make, which ranks it as the second-most expensive film ever. The cast is an embarrassment of riches as its loaded with Hollywood stars. The film itself is the 19th entry in the Marvel Universe franchise and is the culmination of all the preceding films, which include big movie franchises (Iron Man, Captain America, Thor, Spiderman, The Hulk, Guardians of the Galaxy, and the recent smash, Black Panther). Clearly, with that budget, cast, and back story to build off, the expectations for this movie are sky high. Fortunately, for the fans (and the studio), the Russo brothers, who directed this film, did not disappoint with this undertaking. Although the film has its weak spots, it's a hugely entertaining movie and will undoubtedly be a massive hit film for the largest franchise in Hollywood.
As described, Infinity War is the culmination of many previous Marvel films. While it's too difficult to go into detail about all that has transpired in the previous 18 movies to get to this point, the audience just needs to know that the unifying thread is the rise of a powerful and evil figure named Thanos (Josh Brolin, Only the Brave, 2017). Thanos, who is a large, bluish-purple being from the planet Titan (Iron Man cleverly calls him "Grimace"), is seeking six mystical Infinity Stones that are scattered across the universe. The Infinity Stones grant unique abilities over mind, soul, space, power, time and reality. In the previous films, these stones have been protected or held by different heroes of the Marvel Universe and Thanos has been hunting the stones down in the background.
The action of this film takes place literally after the final scenes of Thor: Ragnorak, which came out last summer. Thor (Chris Hemsworth, 12 Strong, 2017) and his brother Loki (Tom Hiddleston, Early Man, 2017), who are flying their people through space to find a new home, come under attack by Thanos, who now has the Power Stone. Thanos wants the Space Stone that Loki is hiding. The Guardians of the Galaxy led by Peter Quill (Chris Pratt, Passengers, 2016) hear Thor's distress call and arrive on the scene to help, although it's too late as Thanos has taken the Space Stone already. After some hilarious banter, Thor and the Guardians of the Galaxy eventually align to fight Thanos as he seeks two more stones in outer space. Meanwhile, Thanos sends his minions to Earth for the remaining two stones.
On Earth, the Hulk/Bruce Banner (Mark Ruffalo, Thor: Ragnarok, 2017) heads to New York City to seek out Dr. Strange (Benedict Cumberbatch, The Current War, 2017) and frantically warns him that Thanos is coming to Earth for two Infinity stones. The Hulk and Dr. Strange (who protects the Time Stone) come under attack by Thanos's forces but are aided by Iron Man and Spider-Man (Robert Downey Jr. & Tom Holland, Spiderman: Homecoming, 2017). Meanwhile, the remaining Avengers led by Captain America (Chris Evans, Gifted, 2017) head to Wakanda (from the Black Panther film) to defend the Mind Stone with the aid of the Black Panther (Chadwick Boseman, Black Panther, 2018) and his army. The rest of the film is essentially these different factions fighting against Thanos and his forces for the Infinity Stones, which he seeks to have control over life and death.
Avengers: Infinity War, as a production, is a truly impressive moviemaking feat as it is hard to recall a film that has had to weave together so many actors, storylines, and locations while still driving a narrative. It's a testament to the writers and directors who were able to have these earlier films stand on their own, and yet set the table for this movie to even exist. The production team also deserves praise as they certainly delivered on the huge expectations of its rabid fan base.
In terms of acting, it's hard to judge individual performances as all roles are rather limited in development given the cast size. However, each actor in the ensemble still has an opportunity to have fun with their character, whether it is with funny dialogue or pure action sequences in the numerous battle scenes. The action in the film is similar to other Marvel films, which is to say it is impressive and over the top. What separates this film from the others, however, is the number of fun character combinations. The funniest scene in the film is Thor and the Guardians of the Galaxy (which includes a talking raccoon and tree) feeling each other out, although the inevitable convergence of Dr. Strange and Iron Man's egos provides a lot of laughs as well.
Of course, Avengers: Infinity War will be entertaining for its fans and boasts action and humor, but this movie is not for everyone. For example, certain scenes are more violent than usual, and the ending of the movie is quite dark, so young children should not see this. Also, even for ardent fans of this series, the action and storylines move very quickly and although the studio states that you don't have to see the earlier films to enjoy this story, it clearly helps makes this film more satisfying. There is little plot background for the audience to get up to speed, so it's difficult to imagine a newcomer fully appreciating this film. Still, for fans of any of the numerous characters, it would be hard not to leave the theater entertained.
Bottom Line: Avengers Infinity War has been brewing for decades and comic book fans will be delighted by this experience, but the dark tone and quick pacing of the plot may make this film more of a difficult watch for non-hardcode comic book fans.
Credits: Written by Christopher Markus and Stephen McFeely; Directed by Anthony and Joe Russo
Cast: Scarlett Johansson (Black Widow), Robert Downey Jr. (Iron Man), Chris Hemsworth (Thor), Mark Ruffalo (Hulk), Josh Brolin (Thanos) Don Cheadle (War Machine), Chris Evans (Captain America), Benedict Cumberbatch (Doctor Strange), Tom Holland (Spider-Man), Chadwick Boseman (Black Panther), Paul Bettany (Vision), Elizabeth Olsen (Scarlet Witch), Anthony Mackie (Falcon), Sebastian Stan (Winter Soldier), Bradley Cooper (Rocket-Voice), Danai Gurira (Okoye), Letitia Wright (Shuri), Dave Bautista (Drax), Zoe Saldana (Gamora), Chris Pratt (Star-Lord), Vin Diesel (Groot Voice), Tom Hiddleston (Loki), Idris Elba (Heimdall), Benedict Wong (Wong), Pom Klementieff (Mantis), Peter Dinklage (Eitri), Karen Gillan (Nebula), Gwyneth Paltrow (Pepper Potts), Benicio del Toro (The Collector), Winston Duke (M'Baku), Tessa Thompson (Valkyrie), Angela Bassett (Ramonda), Jacob Batalon (Ned) and Florence Kasumba (Ayo).
Studio: Walt Disney Studios Motion Pictures / Marvel Studios
Running Time: 149 minutes
Jessica DeLong © April 30, 2018