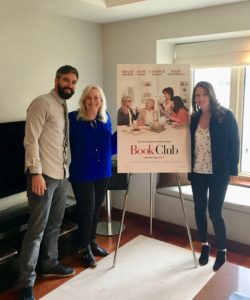 My interview for the movie Book Club, with director Bill Holderman and screenplay writer Erin Simms was held in a suite at the beautiful Park Hyatt Hotel in Chicago, May 11, 2018. It's always easier to interview talent when you truly love a film, and that is the case here. Bill's a Chicagoland native, and Erin is his longtime friend and former colleague. What I found intriguing about our meeting was learning about how, the screenplay idea came to light. Let me just say that Bill sent all three books of the Fifty Shades of Grey trilogy to his mom, yes his mom as a gift. Erin's reaction is priceless…please read on.
Sarah Knight Adamson: Can you tell me about your Chicago roots? I'm not sure where you grew up.
Bill Holderman: Yeah, so, born and raised here, I went to high school out in LaGrange at Lyons Township. My mom lives right downtown [Chicago], my dad lives out in LaGrange still, but I… Even in high school I would commute from downtown [Chicago] a couple days a week, and Chicago is the greatest city in the world. I'm biased.
SKA: LT? You went to LT?
Bill H: Yeah.
SKA: So did my husband, Bill Adamson.
Bill H: Really? That's amazing!
SKA: He's a fanatic, yes. Still has friends with his kindergarten class.
Read more ›