British director Simon Curtis was in Chicago to promote his film Goodbye Christopher Robin during the Chicago International Film Festival. While my interview with him took place at the beautiful Park Hyatt Hotel in Chicago, it was also fitting that we took a photo together as this was the third time I'd interviewed him over the past six years. He's a great director and no stranger to recreating historical films as with Goodbye Christopher Robin. I was also anxious to talk with him about the setting in England as I had just visited Pooh Corner and the Hundred Acre Woods in Hartfield, England.
Sarah Knight Adamson: You've given the world the back-story to our beloved Winnie the Pooh and Christopher Robin, as well as the author. What drew you to the script?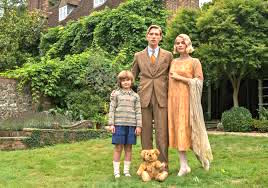 Simon Curtis: Well that, first of all, and then beyond that, the script seemed to be about so many rich and important things. Mostly the subject, very important to me, family, but also creation and the child celebrity, Christopher Robin, was almost like the first famous child. Also, it tells the story about how England was living in the shadow of World War I, and that had a huge impact on Milne, and it was a big part of the creation of the stories.
SKA: Absolutely. The film takes place in East Sussex, England near the Hundred Acre Woods in the story. I was just there a week ago, October 3rd, visiting Pooh Corner Tea Room. Did you go to the tea room while you were filming?
SC: I didn't go to the tea room, but we only were actually a few days in the real hundred acre woods. That rock they sit on at the end actually has a block on it dedicated to A.A. Milne.