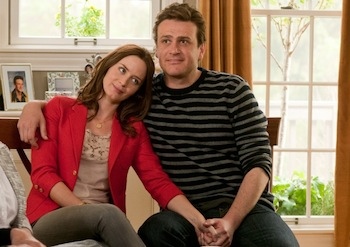 Jason Segel and Emily Blunt star in Universal Pictures "The Five Year Engagement"
Click here to listen to Hollywood 360 WIND 560AM radio podcast with Sarah Adamson.
Stalling to the Altar
Remember the popular 90s film "Four Weddings and a Funeral?" In the "Five Year Engagement," we are presented with four funerals and a wedding − maybe. These events plus a five year time-lapsed engagement are at the center of a very long, drawn out Judd Apatow produced film, an all too familiar annoyance that has occurred with other Apatow films, in particular, "Funny People, 2009." Simply stated, considerably more of his films' footage should have ended up on the cutting room floor.
Nicholas Stoller directs, pairing again with Jason Segel, as they co-wrote "Forgetting Sarah Marshall," an even paced, hysterically funny Apatow produced film, repeating a similar character profile – that of a rejected, self-doubting, meek guy.
Segel (Tom) and Emily Blunt (Violet), a San Franciscan couple, meet, become engaged and relocate to Michigan, due to Violet's acceptance into the University of Michigan's doctoral psychology program, all within the first fifteen minutes of the film. We feel Tom's pain as he deals with drastic climate changes and his downgraded job (sous chef to deli sandwich maker), while Emily, enamored by her intriguing professor (Rhys Ifans), continually asks, "Are you doing ok with this?" Tom's typical reply is, "Oh yes." Truth be told, Tom is not doing ok.
In addition, Violet's sister (Alison Brie) finds herself in a precarious situation as she had a one-night stand with Tom's obnoxious best friend (Chris Pratt), which resulted in an unwanted pregnancy and a hurried wedding. Violet is crushed that she didn't have the first wedding in the family, but vows to Tom that their wedding will be amazing. Sadly, when the couple finally decides to plan their wedding (about two years later), Violet doesn't have the time nor, it seems, the interest and Tom takes over the duties.
While Tom is busy scouting out crazy wedding venues, tasting cakes, etc. with his knitting and deer hunting friend (Chris Parnell) and his zany deli boss (Eric Scott Cooper) who pickles everything, Violet finds out she's accepted to the University of Michigan post-doctorate program, delaying the wedding yet again.
We feel so bad for Tom and his situation that we can't get past the idea that these two should stop prolonging the wedding day and get on with their lives, one-way or the other. Emily is so wrapped up in her psychology college courses that she inadvertently analyzes Tom's every move, which broadens the wedge in their relationship. Even though their realistic chemistry rings true, we can't help but want to see them out of the miserable environment they've created for themselves. Billed as a comedy, we are subjected to uncomfortable situations by not only the main couple but by their friends and families.
Grandparents pass away one by one, causing both sets of the couple's parents to engage in awkward conversations about 'the' wedding date. In addition, Tom begins to loose his self worth and turns into a grizzly bearded guy who hunts deer with a mechanical bow while wearing a crazy, mismatched, oversized sweater knitted by his buddy.
And − if you're at all queasy, be warned about a few scenes involving blood and lost appendages. Violet's five-year old niece accidently shoots her in the leg with Tom's hunting crossbow and, in another freak accident, a finger is severed and a toe is lost due to frostbite. Ouch!
The movie has too many sub plots and wacky physical comedy gags, such as those mentioned above and Segel leaping onto parked cars and bouncing off onto the pavement. These don't really add much to the storyline other than an attempt to create more sympathy for Tom.
A standout in the film is Chris Pratt, the guy everyone 'loves to hate'. His expressions, mannerisms and comedic timing are similar to a young Jack Black. No doubt, we'll be seeing more of him on the big screen.
Thankfully, the film does have a sweet ending although somewhat predictable.
Bottom-line: Lack of much needed editing leaves the audience yawning and looking at their watches. Segel and Blunt have wonderful chemistry and are very believable.
Cast: Tom (Jason Segel), Violet (Emily Blunt), Alex (Chris Pratt), Suzie (Alison Brie), Chef Sally (Lauren Weedman), Carol (Mimi Kennedy), Pete (David Paymer), Sylvia (Jacki Weaver), Professor Childs (Rhys Ifans), Vaneetha (Mindy Kaling), Ming (Randall Park), Doug (Kevin Hart), Bill (Chris Parnell)
Director: Nicolas Stoller
Screenplay: Jason Segel, Nicolas Stoller
Studio: Universal Pictures
Running Time: 2 Hours and 4 minutes
Sarah Knight Adamson© April 27, 2012