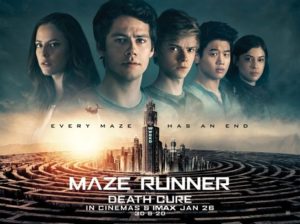 Fearless Teens Give Us—Running, Running, and More Running
Click Here to listen to Sarah Knight Adamson's Hollywood 360 Radio Podcast:

After 11 months of delayed production, due to lead actor Dylan O'Brien's (Thomas) serious onset head injury, the finale brings the dystopian saga cast together again. Originally scheduled to be released February 2017, there's been an overdue wait time. However, I applaud filmmakers for making sure their star was completely able to return to work all those typically long hours. What I find fault with isn't the wait time; it's the overstuffed script with drawn out scenes that are in dire need of editing. I'm sorry to say, one death scene with black blood and creepy purple popping veins went on so long that you're seriously wanting it to "just be over already."
An electrifying speeding train stunt bursts onscreen as the opening—and just like that—we are immersed back into the world of zombies, mad scientists, violence, comradery, torture, and heroes. Fans of the series will not be disappointed, especially if they've read the young adult books by James Dashner, as they will also have the advantage of knowing the back-story. If, in fact, one hasn't seen the other two films, well, they'll spend 143 minutes in their own maze of confusion and misunderstanding—good luck with that
Bringing you up to speed, this science-fiction story centers on a plague that has killed most of the adult population in the world. Scientists have been experimenting on kids to find an antidote named Death Cure. The maze, as described in the book and visually recreated in the first film—which, by the way, is fantastic; alas, in Death Cure, that really cool maze has been replaced by what appears to be an abandoned underground tunnel or a boring vacant parking garage. I'm not sure, but the is as huge as the maze is the main element of the story.
While the opening rescue is generally successful, Minho (Ki Hong Lee), Thomas' good friend, was left behind to be the prize guinea pig for the power figures known as W.C.K.D. (World in Catastrophe: Killzone Experiment Department). Thomas' gang of friends go back to help him rescue Minho, and that covers the majority of the film, until the end, which we never give away. Here's what we will tell you: several repeated lines of someone saying, "You, gotta go!" and someone answering back, "Not without you!" There's an extended dying scene with a touching, heartfelt letter and a necklace.
The incredible actress Patricia Clarkson (Ava Paige) as one of the scientists involved with testing the kids to the brink is always a pleasure. Her seasoned experience brings authenticity to any role, and thankfully, she does have a scene of redemption, considering the extreme lab experiments she authorizes.
You'll meet a few new characters, some of which are in the middle of turning into Cranks (zombies) and a unusual school bus scene straight out of the "Fast and Furious" franchise. But the real fun comes from seeing Thomas and his determined friends reunite to save the world. It's really too bad the film wasn't edited tighter with more attention given to the physical maze where the real thrills lie.
Bottom Line: Death Cure is over-stuffed, drawn out, and overly dramatic, with too many action scenes.
Cast: Dylan O'Brien (Thomas), Kaya Scodelario (Teresa), Thomas Brodie-Sangster (Newt), Dexter Darden (Frypan), Nathalie Emmanuel (Harriet), Giancarlo Gillen (Janson), Walton Goggins (Lawrence), Ki Hong Lee (Minho), Jacob Lofland (Aris), Katherine McNamara (Sonya), Barry Pepper (Vince), Will Poulter (Gally), Rosa Salazar (Brenda), and Patricia Clarkson (Ava Paige).
Credits: Director Wes Ball, Screenplay T.S. Nowlin
Studio: 20th Century Fox
Running Time: 2 hours 23 minutes
Sarah Knight Adamson ©January 28, 2018