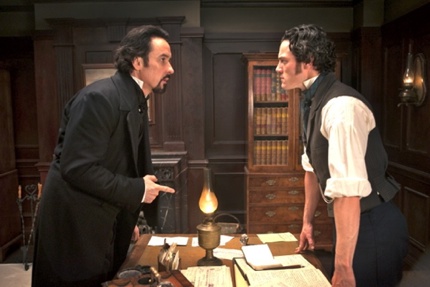 John Cusack (left) as Edgar Allan Poe and Luke Evans (right) as Detective Fields in "THE RAVEN."  Photo Credit: Relativity Media 

Not Much to "Rave" About in "The Raven"
It is 1849 in Baltimore, Maryland. The fog lingers above the dark, empty cobblestone streets. A mother and her 12-year old daughter are found viciously murdered. This is the first of the torture filled murder spree embarking on Baltimore. The mysterious serial killer uses Edgar Allan Poe's tales as his instruction manual in James McTeigue's ("V for Vendetta") period thriller, "The Raven."
Whether it be someone buried alive (A Cask of Amontillado), killed in an empty room with no means of escape (Murders in the Rue Morgue) or death by a swinging blade (The Pit and the Pendulum), nothing is left to the imagination in these slayings.
Unfortunately, what is left to the imagination is the plot. While the atmospheric direction, makeup and costume design are spot on in this nineteenth century murder mystery, the writing falls flat. Written by Ben Livingston and Hannah Shakespeare, the film lacks depth, overall. Aside from Poe (John Cusack), there is little character development and the film becomes sluggish in the middle. The film follows Poe during the last few days of his life. One thing is certain, viewing "The Raven" wouldn't be high on my 'to do' list in my final days.
Since Poe wrote these tales, a local detective (Luke Evans) decides to bring him onboard as an expert consultant in hope of stopping the gruesome stories from coming to life (or death). When Poe's love interest, Emily (Alice Eve), is abducted by the madman things are taken to a whole new level. Poe wracks his brain along with everything in his path to save her before it is too late. Although her father (Brendan Gleeson), a wealthy, local businessman, initially banned Poe from seeing his daughter, he certainly comes around pretty quickly upon hearing of his daughter's danger. After adding a few more men to the search party, the team must fight the clock while piecing together the clues that are left with each victim.
Cusack is surely entertaining playing a depressed, penniless Poe. Evans' performance as the local detective is respectable but not memorable. Perhaps, this goes back to the lacking script. Eve's take on the distressed Emily is very notable. Audiences will certainly feel as claustrophobic as she probably did while filming.
As with many mystery thrillers, there is some cheesiness in this one. There is an overabundance of shouting that is just unnecessary. In one scene, the men are searching for Emily in the underground tunnels and scream, "Emily" at least ten times…I'm not even including the echoes. I found myself laughing at that point, probably not the reaction the makers of this film were going for. Poe was also referred to as "Eddie" a few times, which didn't have a nineteenth century feel. There were a few humorous lines thrown in by Poe that were very untimely and unneeded. One evening, while laying out all their last options for rescuing Emily, Poe says, "I went to West Point, don't worry I was expelled." He needed to stick to storytelling.
Bottom Line? "The Raven" is a moderately entertaining thriller. Audiences may find that it reminds them of the "Sherlock Holmes" movies or "The Legend of Sleepy Hollow." If you are a fan of Cusack, but not of gore and grisly images, it may be time to pop in an old classic, "High Fidelity" or "Serendipity."
Cast: John Cusack, Luke Evans, Alice Eve, Brendan Gleeson, Oliver Jackson-Cohen


Credits: Directed by: James McTeigue; Written by: Ben Livingston and Hannah Shakespeare


Studio: Relativity Media

Run Time: 111 minutes
Jessica Aymond © April 27, 2012