Sarah's a film critic, radio personality and entertainment journalist who provides common sense film reviews. Sarah's movie viewing covers a lifetime passion that began at age ten living in sunny Los Angeles, California, at which time she and her mother also started watching the Academy Awards.
She reviews films for the internationally syndicated radio show Hollywood 360 Radio Network. She's heard weekly on Hollywood 360 and The Twilight Zone Radio Show which covers a combined total of 168 stations After nearly four successful years on Salem's AM 560 WIND-Chicago, HOLLYWOOD 360 is now being nationally syndicated to many of the Salem Radio Network's News/Talk stations, including: WNYM-New York, KRLA-Los Angeles, WWRC-Washington DC, WGKA-Atlanta, WWTC-Minneapolis, WGUL-Tampa, WLSS-Sarasota and KNUS-Denver, in addition to the international markets of Brussels and Vienna.
Founder and publisher of Sarah's Backstage Pass website, Sarah enjoys promoting the latest in film news. She's conducted Q&A sessions for major Hollywood film screenings with the lead actors present, interviewed celebrities (Ben Affleck and Channing Tatum to name a few) and covered Red Carpet Premieres & Awards Shows in Chicago and LA.
Her written film reviews have appeared in magazines, online and in the TribLocal newspaper, the Chicago Tribune subsidiary, of which she was the Regional Arts and Entertainment columnist.
 As a free-lance writer, she is very honored to have her articles appear on RogerEbert.com and to have had the pleasure of interviewing Ebert in 2011.
Sarah's an approved critic for 🍅Rotten Tomatoes, you can find her reviews for all three of her press outlets. Sarah Knight Adamson Rotten Tomatoes Critic
Accepting an invitation to join the Alliance of Women Film Journalists based in New York is an honor that allows collaboration with others focusing on women in film. Written transcripts of her radio reviews and other articles are posted to the AWFJ.org website here:.AWJF-Sarah Knight Adamson Member
Serving as a judge on film juries for the International 48 Hour Film Project and the Chicago International Children's Film Festival provides her with a personal sense of gratification and the promoting of the arts. Along with serving on a panel on behalf of the Chicago Public Library to enlighten audiences on the topic of 'anti-heroes' in comic books as in Michael Chabon's Pulitzer -Prize winning book, "The Amazing Adventures of Kavalier & Clay." Sarah's also taught a Film Criticism class in Chicago at Facets Cinémathèque for children ages 7-17.
Her lengthy career (20 years) as a classroom teacher of gifted literature is a perfect match in critiquing children and family films. Sarah's Master's Degree is in Reading from Northern Illinois University.
For the past nine years, Sarah has hosted the Variety Children's Charities of IL fundraising event, the live telecast of the Academy Awards at a local theater, she also serves as a member of the Executive Board for Variety of Illinois.
Sarah's a proud member of The Chicago Film Critics Association and attends weekly film screenings in Chicago. She's also a member of the Broadcast Film Critics Association and attends their annual Critics Choice Awards ceremony in LA.
An avid traveler both nationally and abroad Sarah's usually in pursuit of 'the' new hot restaurant as well as frequenting the local cinema.
_______________________________________________________________________
Jessica is a Chicago area native who graduated from Indiana University with a Bachelor of Arts in Journalism. While in attendance, Jessica got her start as Entertainment and Fashion anchor at Indiana University's Student Television (IUSTV) where she covered stories ranging from the latest fashions, beauty trends and current celebrity news. Her editorial work with the San Diego News Network also contributed to her journalistic foundation.
Since joining the Sarah's Backstage Pass staff in 2008, Jessica has interviewed celebrities from major Hollywood films and reviewed the latest movies live on the internationally syndicated Hollywood 360 Radio Network.
Jessica is honored to be a part of
The Chicago Film Critics Association
for which she attends screenings and critic events like the Chicago Critics Film Festival and the Chicago International Film Festival. She's co-hosted the CFCA's 'Film With a View Series' and the annual Academy Award Red Carpet event for Variety Children's Charity.
Her longtime interest in the entertainment industry inspired Jessica's background acting in major Hollywood films such as the 2010 remake of, "A Nightmare on Elm Street." An avid traveler all her life, this Midwestern girl spent a semester abroad in London and has explored continental Europe, Australia and New Zealand. She also covered the Hollywood scene while living in Los Angeles. Jessica recently got married and is enjoying free time again post-wedding. Jessica and her husband Peter love indulging in the latest movies and TV series and exploring the execeptional restaurant scene in Chicago. They look forward to checking another country (and continent!) off thier travel bucket list when they head to South Africa for their honeymoon in the Spring.
_______________________________________________________________________
Kathrine is a designer and writer living near Denver, Colorado. Having grown up as Sarah's daughter, she has a long history of attending movies, filling out Academy Award ballots, and talking about film with her mom. She experienced the world of filmmaking firsthand in 2006 by working with Sarah as a background actor in Chicago on several major films and TV shows. A director even had them start a scene by playing mother and daughter during an Irish birthday party.
Having a strong passion for film typically she watches hundreds of movies a year. As a staff writer for Sarah's Backstage Pass, Kathrine has covered major motion pictures, documentary films and has interviewed industry professionals. She currently works as a UX/UI designer for an Ad Tech company in Boulder, CO and is a freelance web designer.
Kathrine has worked as a creative director for a marketing agency and as a designer and digital media manager for a home care franchisor. She holds a BFA in environmental design from the University of Colorado and is working towards a MFA in Web Design from the Academy of Art. Kathrine spends her free time with her husband, their new baby, and their dog hiking around the rocky mountains, taking photos, and checking out the art, film and restaurant scene in the Denver/Boulder area.
---
From 2008 to 2015, Erika was the film critic, movie blogger and social-media writer for Redbox. She helped the brand launch its social media presence in 2009—growing it to 5.73 million+ Facebook fans and 157,000 Twitter followers by the end of her tenure.
She also provided on-air film reviews for the Bob Miller Show on KPAM radio in 2010, and throughout 2013 and 2014 she partnered with fellow critic Erik Childress to review new releases and talk about film on WGN Radio's Bill Moller Show. Further, in 2013 she appeared on Reel Thursdays with Michael Phillips of The Chicago Tribune, and in 2014 she was a featured speaker on CIMMfest's film criticism panel. She has been invited to speak to high school, college and graduate-school students on her unusual career path and the importance of following your passion.
Prior to her film criticism and freelance-writing career, Erika spent a decade in the consulting and financial services industries. In late 2010, her first book, Zero-Sum Game: The Rise of the World's Largest Derivatives Exchange, was published by Wiley. It details the 2007 multibillion-dollar bidding war for the Chicago Board of Trade, where Erika was a Managing Director at the time.
Erika is originally from Michigan but has lived in Chicago since 1996. She and her husband are avid travellers and have visited more than 40 countries across all seven continents (yes, even Antarctica)—however, they still agree that Chicago is the best place in the world. Erika earned her MBA from Harvard Business School and her BBA from the University of Michigan Ross School of Business.
_____________________________________________________________________________________
Patty Babin, originally from Pittsburgh, Pennsylvania, has been a resident of the Chicago area for more than twenty years. She has had a lifelong interest in the performing arts and cinema. She was a dancer and choreographer in her college dance theater and later worked as a background actor in over seventy films and TV projects. More recently, she has furthered her interest in acting and has studied at The Green Room, Second City, Vagabond School of the Arts, and many on-camera acting workshops. She is actively working as an actor in short films and is a lifestyle print model. She has also achieved representation by a major talent agency in Chicago.Patty attends over sixty theatrical productions a year. She is a regular at her local art house movie theater, where she purchases her tickets in bulk. She also frequents larger theaters so as not to miss the blockbuster hits. She is currently a member of the Midwest Independent Film Festival and has attended the Chicago International Film Festival as well as the Chicago Film Critic's Festival.
Patty works full-time as a finance manager/ partner of a successful sports event company, but feels that diving into the artistic community in Chicago has not only quenched her thirst for a creative outlet, but has opened so many wonderful doors to new friendships and self-discovery. The golden door was meeting Sarah Adamson on the set of "Witless Protection," which led to a friendship and dinner parties. They often discuss their love of film along with their dreams and goals surrounding the cinema. Patty's mantra is to keep pushing herself out of her comfort zone so that she can lead a life of continual growth and fulfillment.
_____________________________________________________________________________________
Bradley Todd- Photographer
Bradley Todd is a Ch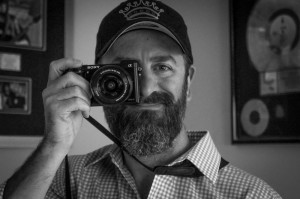 icago-based concert photographer, who has combined a lifelong love of music with a passion for the creative art of image making. Bradley was exposed to photography at a early age by his father, who was an avid hobbyist who was always taking pictures of his young son no matter the time or location, going so far as to converting living space in the family home to a darkroom and hanging the results in every room.
In 2006, Bradley took his first concert photograph of one of his all-time favorite bands, Cheap Trick a photograph he recalls as being a "horribly composed/exposed, out of focus mess." Since then he has refined his skills and techniques, always striving to capture shots of artists in expressive moments interacting with their instruments, their music, and their fans. He has photographed rock artists from Aerosmith to ZZ Top, in close to one hundred shows.
In addition to shooting concerts, Bradley's photographic interests and endeavors include portraiture, landscape, street, and macro photography, as well as capturing local events and Chicago sports. His philosophy is that, like life, photography is about the journey rather than the destination, with photos documenting the road traveled.
When not attending concerts, Bradley can be found chasing his children around trying to photograph them, or working at his day job as an attorney. Bradley is a proud University of Kansas "Jayhawk" alumni, and attended The John Marshall Law School in Chicago.
You can follow Bradley Todd at: Facebook – Bradley Todd Photography www.facebook.com/bradleytoddphotography"//Instagram – BradleyToddPhotography // Twitter – @BradleyTPhoto)
Meet our Intern-Alexi Rabin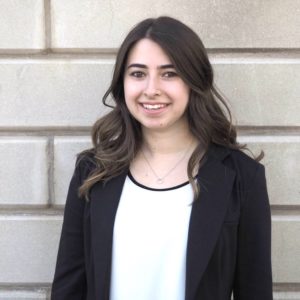 As a graduate from the University of Iowa, Alexi strives to use her Journalism/Mass Communication major, Psychology major, and Art minor to make a lasting impact in the Marketing/Advertising world. She lives in the Chicago area but enjoys traveling to LA and NYC whenever she gets a chance. Alexi has always had a strong passion for celebrities and all things Hollywood. She is an old soul who has met over 200 celebrities; with Joan Rivers and Betty White as her favorites. Since joining Sarah's Backstage Pass in 2013, Alexi has interviewed actors, live-tweeted award shows, and performed background research on various films. Her dream is to attend the Academy Awards one day.